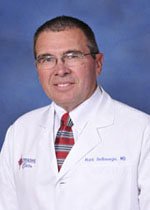 Locations
Location: Gastroenterology – Arlington Blvd
1850 W. Arlington Blvd.
Greenville, NC 27834
Office: 252-413-6260
Fax: 252-752-4117
Specialities
Biography
Dr. Dellasega graduated from Pittsburg State University. He received his medical degree from Kansas University Medical School and completed his Residency in Internal Medicine and Fellowship in Gastroenterology at Duke University. He is Board Certified in Internal Medicine and Gastroenterology and joined the practice in 1982. To schedule an appointment with Dr. Dellasega , please call 252-413-6260.